The bourbon industry marked a special homecoming on June 6, 2022, as Heaven Hill broke ground on a $135 million distillery in Bardstown – with a name paying tribute to the family-owned company's original distillery that burned in a devastating fire in 1996.
Kentucky Governor Andy Beshear joined Heaven Hill President Max Shapira and Master Distiller Conor O'Driscoll to commemorate the start of construction and reveal the new distillery's name: Heaven Hill Springs Distillery.
"We're honored to celebrate this homecoming with a return to distilling in Bardstown to augment our overall bourbon-making capacity, as well as continue to make an impact in the Bardstown community," Shapira said. "I'm proud to salute our history and the many Bardstown men and women who helped build our brands over the years by naming our new facility in honor of the original Old Heaven Hill Springs that my father and uncles founded in this community nine decades ago."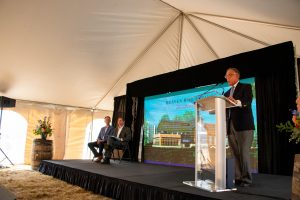 The new, state-of-the-art Heaven Hill Springs Distillery will add at minimum 38 jobs to the company's 381 people already working in Bardstown at Heaven Hill's Loretto Road bottling, aging and tourism facilities.
"This is a significant day for Heaven Hill and Kentucky. The return of distilling operations to Nelson County is a return to the company's roots, and the investment highlights the continued growth of bourbon and spirits in the commonwealth," Gov. Andy Beshear said. "I am incredibly happy for the residents of Bardstown and the surrounding area, and I want to thank the leaders at Heaven Hill for this commitment to create new job opportunities and build the company's presence in our state."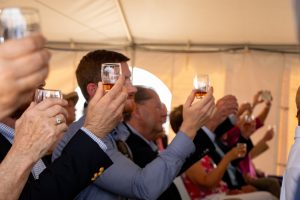 The name Heaven Hill Springs celebrates the company's homecoming to Bardstown – the bourbon capital – and a return to distilling in the community. In 1935, Old Heaven Hill Springs Distillery filled barrel number one on Friday, December 13. At that time, that distillery rested at the bottom of a hill near a creek just south of the new distillery site at 1015 Old Bloomfield Pike, off KY 245.
Also in attendance at the groundbreaking were local and state officials, bourbon industry representatives, and a number of present and past Heaven Hill employees, some of whom worked at the original Old Heaven Hill Springs Distillery. In addition, the company announced it is partnering with Bardstown's Oscar Getz Whiskey Museum on the Phoenix Oral History Project to document accounts, stories and records of Old Heaven Hill Springs Distillery in order to ensure its story lives on in the Bardstown community and beyond.